Ocean Biomedical (NASDAQ: OCEA) Announces Initiation of Coverage by Taglich Brothers with a Share Price Target of $20.
Return to news
Providence, RI, June 01, 2023 (GLOBE NEWSWIRE) -- Ocean Biomedical, Inc. (NASDAQ: OCEA), a new-era biopharma company working to accelerate the development and commercialization of scientifically compelling assets from research universities and medical centers, announced today that an equity analyst coverage report has been issued by Taglich Brothers with a price target of $20 per share.

From Taglich Brothers
"Our 12-month price target of $20.00 per share implies shares could appreciate nearly four-fold over the next twelve months. OCEA's valuation improvement prior to commercialization of its drug candidates is likely to occur as additional patents that protect its technology methods are issued. Also, investors are likely to see valuation improvement as additional studies are released indicating the underlying mechanisms of action for its drug candidates appear to be working, as well as obtaining additional funding to bring the candidates through the commercialization process."
"Our rating and price target reflects OCEA's therapeutic candidate programs within its three subsidiaries—oncology, fibrosis, and infectious disease. The programs are supported by a high level of sophisticated technology for their drug candidates that have the potential to treat patients suffering from non-small cell lung cancer, brain cancer, idiopathic lung fibrosis and a rare orphan disease called Hermansky-Pudlak syndrome, and vaccine and therapeutics to treat and prevent malaria."
"Further supporting our belief that the company can bring therapeutics through the clinical process to commercialization is the scientific team led by Scientific Co-founders Dr. Jack A. Elias and Dr. Jonathan Kurtis. Their research enabled the company to fund the programs (see chart below) through past and ongoing grants of nearly $124 million."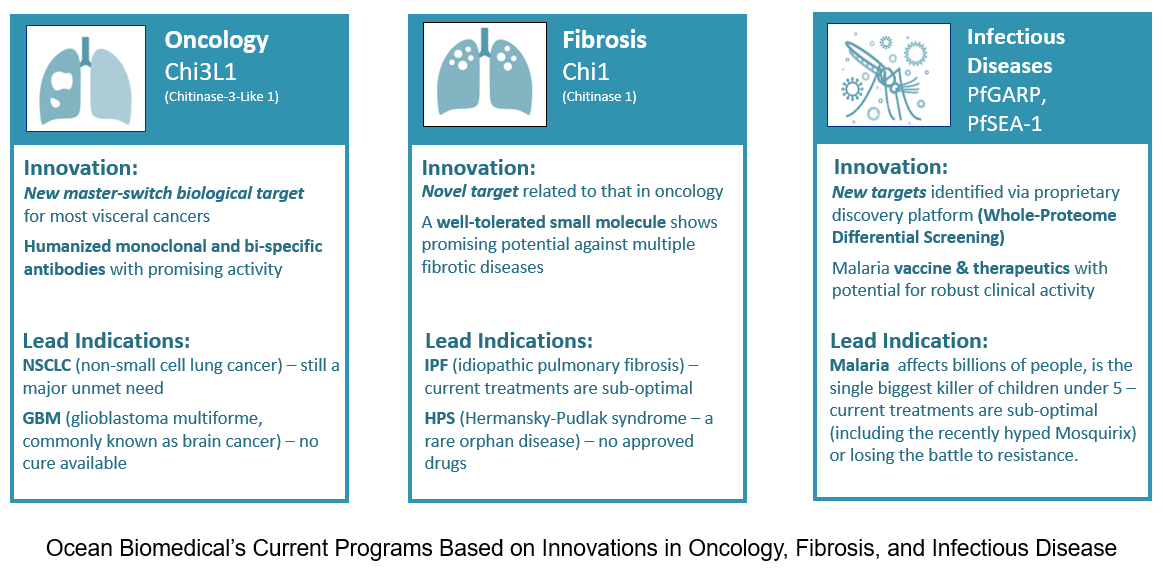 From Ocean Biomedical
"We are honored to see independent institutional research analyst coverage recognizing the strength of our diverse programs in oncology, fibrosis, and infectious disease, which we are hopeful may someday have a large impact in multiple disease populations," commented Dr. Chirinjeev Kathuria, co-founder and Executive Chairman of Ocean Biomedical.
"We are pleased to see our unique business model and our promising science gaining more coverage by analysts as we take the systematic steps needed to advance our programs as efficiently as possible into the clinic," commented Ocean Biomedical's CEO, Elizabeth Ng.
"It is gratifying to see the close attention being paid to Ocean Biomedical's work as we build a company that has long-term potential to be high impact for patients and stockholders," said Suren Ajjarapu, an Ocean Biomedical director.
A copy of Taglich Brothers' full analyst report can be obtained directly from Taglich Brothers.
All reports on OCEA prepared by analysts represent the views of such analysts and are not necessarily those of OCEA. OCEA is not responsible for the content, accuracy, or timelines provided by analysts. OCEA does not expressly or by implication warrant or assume any legal liability or responsibility for the accuracy, completeness, or usefulness of any information, assumption, data, forecast, price target, estimate, or projection contained in the reports or industry notes provided by analysts, and the dissemination of such reports or industry notes does not necessarily constitute or imply OCEA's endorsement or recommendation.
About Ocean Biomedical
Ocean Biomedical, Inc. is a Providence, Rhode Island-based biopharma company with an innovative business model that accelerates the development and commercialization of scientifically compelling assets from research universities and medical centers. Ocean Biomedical deploys the funding and expertise to move new therapeutic candidates efficiently from the laboratory to the clinic, to the world. Ocean Biomedical is currently developing five promising discoveries that have the potential to achieve life-changing outcomes in lung cancer, brain cancer, pulmonary fibrosis, and the prevention and treatment of malaria. The Ocean Biomedical team is working on solving some of the world's toughest problems, for the people who need it most.
To learn more, visit www.oceanbiomedical.com.
Forward-Looking Statements
The information included herein and in any oral statements made in connection herewith include "forward- looking statements" within the meaning of the "safe harbor" provisions of the United States Private Securities Litigation Reform Act of 1995. Forward-looking statements may be identified by the use of words such as "estimate," "plan," "project," "forecast," "intend," "will," "expect," "anticipate," "believe," "seek," "target," or other similar expressions that predict or indicate future events or trends or that are not statements of historical matters, although not all forward-looking statements contain such identifying words. These forward-looking statements include but are not limited to: the expected timing and success of investigational new drug ("IND") filings for our initial product candidates; statements regarding the expected timing of our IND-enabling studies; the frequency and timing of filing additional INDs; expectations regarding the availability and addition of future assets to our pipeline; the advantages of any of our pipeline assets and platforms; the potential benefits of our product candidates; potential commercial opportunities; the timing of key milestones for our programs; the future financial condition, results of operations, business strategy and plans, and objectives of management for future strategy and operations; and statements about industry trends and other companies in the industry. These forward-looking statements are based on various assumptions, whether or not identified herein, and on the current expectations of the management of Ocean Biomedical, Inc. (the "Company"), and they are not predictions of actual performance. These forward-looking statements are provided for illustrative purposes only and are not intended to serve as, and must not be relied on by any investor as, a guarantee, an assurance, a prediction, or a definitive statement of fact or probability. Actual events and circumstances are difficult or impossible to predict and will differ from assumptions.
Any discoveries announced by the Company are based solely on laboratory and animal studies. The Company has not conducted any studies that show similar efficacy or safety in humans. There can be no assurances that any treatment tested by the Company will prove safe or effective in humans, and any clinical benefit of any such treatment is subject to clinical trials and ultimate approval of its use in patients by the FDA. Such approval, if granted, could be years away.
Forward-looking statements are predictions, projections, and other statements about future events that are based on current expectations and assumptions and, as a result, are subject to risks and uncertainties. These forward-looking statements are not guarantees of future performance, conditions, or results, and involve a number of known and unknown risks, uncertainties, assumptions, and other important factors, many of which are outside the control of the Company that could cause actual results or outcomes to differ materially from those discussed in the forward-looking statements. You should carefully consider the foregoing factors and the other risks and uncertainties that are described in the Company's Annual Report on Form 10-K for the year ended December 31, 2022, and in other documents to be filed by the Company from time to time with the SEC and which are and will be available at www.sec.gov. These filings identify and address important risks and uncertainties that could cause actual events and results to differ materially from those contained in the forward-looking statements. Forward-looking statements speak only as of the date they are made. We do not undertake any obligation to update any forward-looking statements made by us. These forward-looking statements should not be relied upon as representing the Company's assessments as of any date subsequent to the date of this filing. Accordingly, undue reliance should not be placed upon the forward-looking statements.
Ocean Biomedical Investor Relations
OCEANIR@westwicke.com

Ocean Biomedical Media Relations
OCEANPR@westwicke.com

Kevin Kertscher
Communications Director

Return to news
Upcoming Life Sciences Events
December 2023
January 2024

San Francisco: 7th Annual Neuroscience Innovation Forum
Biotech Showcase™